TXT2U
TXT2U has been technically designed to enable rapid deployment and modeled to provide fast return on investment. It is built on tried and tested infrastructure and capitalizes on the future of communications - SMS Text Messaging. Requiring minimal system configuration, ensuring ease of deployment and no requirement for in-house technical support or system expertise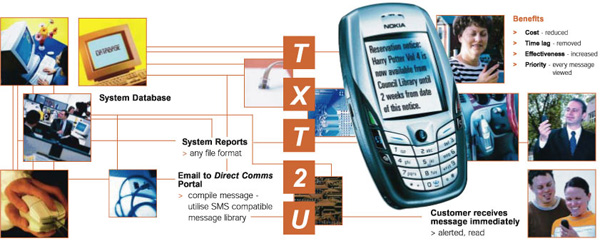 TXT2U provides the answer to organizations seeking a more effective approach to customer communications delivering the following benefits:
The only communications method that offers confirmation of successful delivery
Personalized, message text can be varied as you please, new messages are easily added
Low cost, fast and robust (this technology is available at a fraction of the cost of conventional communication methods)
Utilize the latest technology (text technology is already widely used, future-proof your organization; TXT2U is forward compatible
Customer awareness (each customer sees your company name, not an unknown telephone number)
Messages will be read (your customer has to view the message before it can be removed)
Broad Application - TXT2U can be used in the following instances:
A reminder service to ensure timely return of loaned assets/resources
To provide pre-warnings to dog owners of events that affect dogs, such as fireworks
To reduce no-shows for scheduled appointments
Improve customer retention rates
It provides an excellent tool to enable push communication across your existing customer base
Make your customers better informed of current and upcoming events or product offers and build your brand with personalized exposure at the same time.
Features
Fully customisable messages (no limits on add / changes of messages)
Your company name appears as the sender on your customers phone
Receive notification of successful delivery of message to phone
Seamlessly integrates with your current system (Library Management System or other), no matter what it is
No new third-party software required on your system
High-level security: only authorized data is accepted
No impact on your current IT security architecture
Error / exception reports
Robust, mature and industry-proven technology
Optional auto-resend for returned messages.
.